The Interview
Klaus J. Eisenmenger is the inventor behind the well know SIQ-Performance Coating for more durability and control. He is one of the world's leaders in the coating technology industry and had been involved in groundbreaking developments for many well-known companies in the aircraft and automotive industries. Although he is a busy entrepreneur, we had the chance to ask him a few questions about Titan Golf.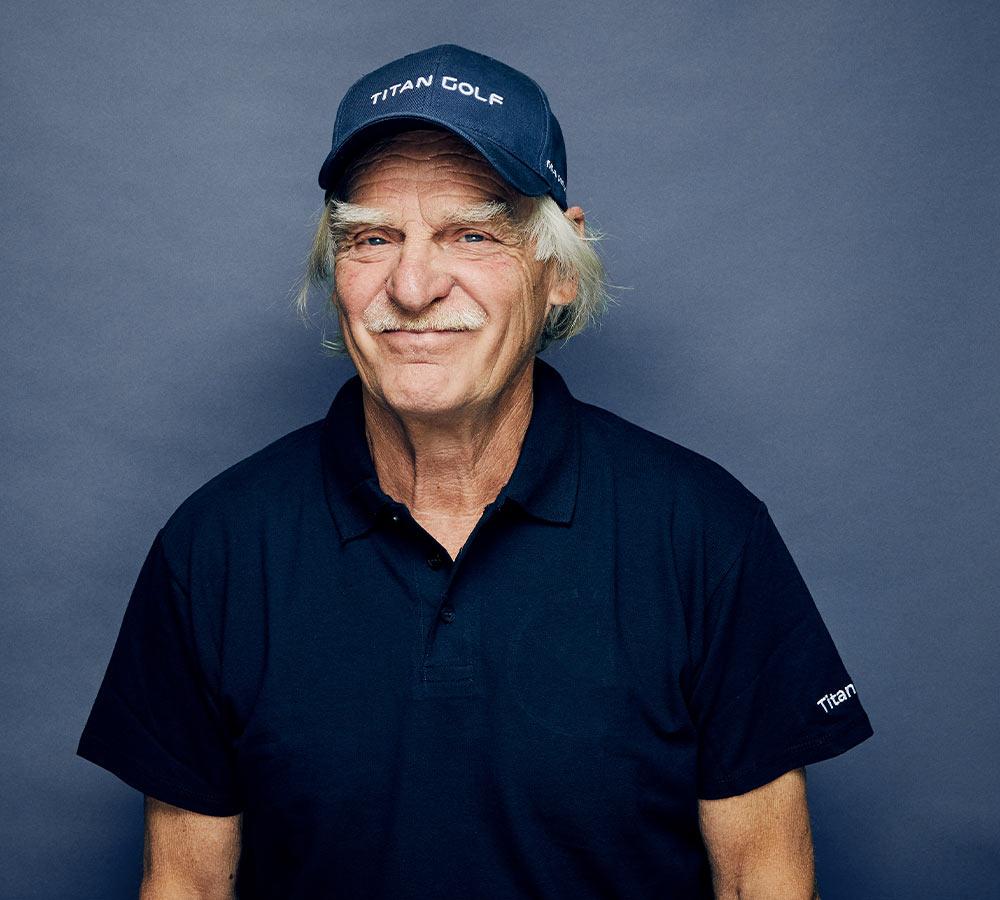 HOW DID TITAN GOLF COME ABOUT IN ITS CURRENT COMPOSITION?
Klaus J. Eisenmenger: I am a passionate golfer and got to know Ben and Jürgen through family and friends. At that time I explained to both of them my vision to improve the spin behavior of the golf ball by a surface coating in order to make the ball flight more constant. For the two of them, who until then had been convinced that shot making control was mainly related to the grooves of the wedges, this was absolutely new territory and an exciting topic. We researched and tested many years on the right material composition and when it was finally time, we were very lucky to find Lukas and Jasper joining our team. We decided to found Titan Golf GmbH in the summer of 2018 and are now doing our utmost to revolutionize the golf world with exciting innovations.
HOW DID YOU COME UP WITH THE IDEA OF ​​DEVELOPING THE SIQ PERFORMANCE COATING FOR WEDGES?
Klaus J. Eisenmenger: As some of you might still know, it used to be in vogue to oxidize wedges, for example by dunking them into Coca-Cola. After learning that the goal was to create more backspin, I took care of it. I was convinced that I could achieve the same positive effects through a surface coating. In addition, it was my concern to achieve a much longer durability of the golf clubs. It must be remembered that only a few hours of training in the bunker significantly reduces the performance of the clubs, as the sand has the same effect as sandpaper. Actually you would have to get new wedges after every training session in the bunker!
With these two goals in mind, I quickly found a workable surface approach from the aircraft industry. Fortunately, I then managed to adapt it to golf clubs and develop the SIQ Performance Coating.
THE GOLF MARKET IS DETERMINED BY A FEW PLAYERS. DO YOU EVEN HAVE A CHANCE TO ASSERT YOURSELF AGAINST THESE COMPANIES WITH THEIR HUGE MARKETING BUDGETS?
Klaus J. Eisenmenger: Because of the many positive feedback from our customers, I believe that our innovations enable us to give every golfer (whether professional or novice) real added value for their golf. Thus, the basis, or as it is said today: the USP, to prevail against the well-known companies is given.
Of course, we do not have the marketing budgets of big companies, but we do not need that. We consider ourselves as a tech driven start-up and are able to precisely define our target groups through data analysis. This allows us to better target our potential customers and channels. The result is obvious: we spend less money on marketing. The saved resources go directly into our products so that we can offer our customers the highest quality. In addition, we distribute our products mainly as directed consumer good, ie without intermediary distributors. This allows us to offer our customers a very attractive price, despite our very low production volumes compared to large companies.
These approaches allow me to look forward to a hopefully exciting and eventful future for Titan Golf!
THANK YOU MR. EISENMENGER! ANOTHER WORD AT THE END?
Klaus J. Eisenmenger: Dear golf friends! Get ready, we've done our homework and a lot of sound innovation in the back of our hands. Let's change the golf market together and shake up the big companies!